Most of the gifts and projects in the Tangible Love catalogue are tax-deductible. Your purchase is a tax-deductible donation helping to fund long-term development or relief work. Proceeds are received and distributed through Interserve Australia's Overseas Aid Fund. You'll see this on your receipt.
Some gifts and projects in the Tangible Love catalogue are not tax-deductible. These gifts fund projects that are focussed on Christian discipleship, ministry in the local church, or non-development work like teaching the children of volunteer workers.
When you buy a mix of tax-deductible and non tax-deductible gifts, your tax-deductible giving will be clearly indicated on your receipt.
Of course, it's impossible to put a value on "Freedom" or "Dignity". We've suggested an amount for each gift based on what you might pay for similar services in Australia. However, every donation – no matter how many dollars – makes a difference to every project. And we want to make it possible for everyone to give a gift that means the most to them. That's why, when you buy a Tangible Love gift, you have the option to use our suggested price or set your own amount. The minimum is $5. There is no maximum.
Yes. If you add gifts or donations to your shopping cart you can come back to it within 48 hours.
Yes, you can order internationally. Please choose the option to Download & print PDF card. We aren't able to send physical cards overseas due to timeliness and cost. Please note that this site operates in Australian dollars.
All Tangible Love gifts and projects are connected with one or more Australian Interserve workers who have committed to long-term work. These folks, and the local people alongside whom they work, would love to receive your message of encouragement. We'd be glad to pass that on. Just email us at contact@tangiblelove.org.au. 
Apart from the funding they receive through Tangible Love gifts, each Interserve worker is supported by a team of regular donors. If you would like to find out more about becoming part of a support team, please contact us.
In order to receive your print cards before Christmas, please order by Monday 16 December 2019. You can still purchase gifts with Download & Print PDF cards at any time.
Our office is closed from Christmas Day (25 December) to New Years Day (1 January). We're sorry no orders for physical cards or enquiries can be taken in this time. We'll be back on Wednesday 2 January 2019.
Tangible Love gifts help resource long-term work by supporting Australian volunteer personnel who are seconded to local organisations. Alongside local leaders, they work towards the outcomes that each gift describes. Each gift description relates specifically to the work of one or more Australian workers on the ground today.
Tangible Love projects fund short-term goals. Each project goal is an important step forward in long-term work. Your donation goes to the costs of these projects. This includes things like equipment, medicines, travel costs, or paying the salaries of local and international workers. A small amount covers the costs of the Interserve personnel involved.
8% of each donation goes to admin costs. This covers essential services like processing payments and receipts, posting cards and good governance to make sure money gets to where it needs to go.
Immediately after your payment, you will receive two emails:
An order confirmation from Tangible Love (including a link to download your PDF cards).
A transaction receipt form eWay, our secure payment gateway, confirming your successful payment.
Your tax receipt will be emailed to you as soon as our team has processed your donation, usually within a couple of days. Your receipt is issued by Interserve Australia. 
Receipts will be made out to the purchaser of the gift and emailed to the email address given. We're sorry we can't make receipts out to the gift recipient.
Yes. Tangiblelove.org.au is protected by a high security TrueBusinessID EV SSL certificate from GeoTrust. This confirms a secure connection and verifies the organisation you are dealing with, and encrypts your details when they are transmitted over the Internet.
On secure pages you will see a padlock in the lower right or upper right area of your browser window to indicate that SSL is enabled. If you can't see the padlock, or have other concerns, please contact us.
Electronic payments are processed through eWay, one of Australia's premier secure online payment gateways.
At the checkout you have the option to create an account. This will store your details so you don't have to enter them again. For security reasons, we will not store your credit card details in your account.
Your contact details are stored and used in accordance with Interserve Australia's Privacy Policy.
A PDF form is available here for you to print and post to us. You can pay by cheque or credit card. If you are ordering gift cards, please allow enough time for Australia Post to deliver your form to us and for us to mail your order back.
You can also order over the phone. Call us at the Interserve office in Melbourne on 03 9729 9611 or Freecall 1800 067 100. Our office hours are Monday–Friday, 9am–5pm.
We make every effort to respond quickly and accurately, but sometimes things don't go as perfectly as we'd like. Please let us know and we'll do something about it asap. Call us on 1800 067 100, or email contact@tangiblelove.org.au.
If you are a regular Interserve supporter, you can tell us your Supporter ID when you buy gifts or make donations. This way we can use your existing information and preferences, and your gift purchases and donations will be included on your statement at the end of the tax year. If paying by credit card, our eWay secure checkout requires you still enter your address to verify your identity.
You can choose between a printed physical card and a digital PDF card.
Our physical cards are full-colour A6-size (10 x 15cm), printed on high quality matte cardstock. There is a full colour image on the front, and an explanation of the gift on the back. They are blank inside. All cards come with a special Tangible Love 100% recycled paper envelope.
Our Download & print PDF cards have the same design as our physical card, with full colour image on the front and explanation of the gift on the back. The PDF file is instantly emailed to you on your purchase. Just print onto white A4 paper or heavy cardstock, cut around the edges and write your message. If you need a last-minute gift, this is a great option!
Our cards do not have a special Christmas message on them. They are great for Christmas gifts but also can be used at any time of year.
Here's what the cards look like!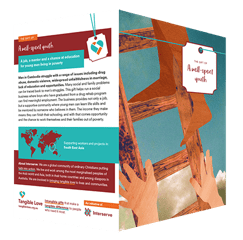 We send Printed card & envelopes by standard Australia Post mail. Cards are mailed from Melbourne, Victoria. Please allow up to 6 business days to receive them in your letterbox, depending on your location. Sorry, we can't send cards by registered mail or express mail. If you need your cards quickly, please choose Download & print PDF cards.
Download & print PDF cards are made available to you immediately after your purchase, and are also emailed to you. Just click the link to download and print onto A4 paper.
Sorry, we can't send a card to a recipient on your behalf. We'll send you the cards so you can write your personal message and send on to your recipient.